Downloading on PS4 right now
I will test it out over the weekend and see if it is for me
are the servers fixed yet? couldnt play last night. I hope its sorted by tomorrow.
ek sal jou join, ekt dit geinstall maar nog nooit probeer speel nie.

I'm terrible at this game so far.
Season 2 is looking good!
Wow. It does actually look great. Gives me avatar vibes. Love the skydiving emotes also
Jumped into Apex Legends Season 2 last night - definitely a lot better than the first season. There have been some significant changes to the map, the new skins are a lot more interesting this time around and the daily/weekly challenges add a nice sense of progression to matches. The addition of Ranked Mode is really good news too, over time as people settle into their respective divisions based on their skill, games should become more evenly competitive and fun.
Last night we had the best round of Apex Legends so far! It was just one of those games where you seem to do everything right and your aim is spot on.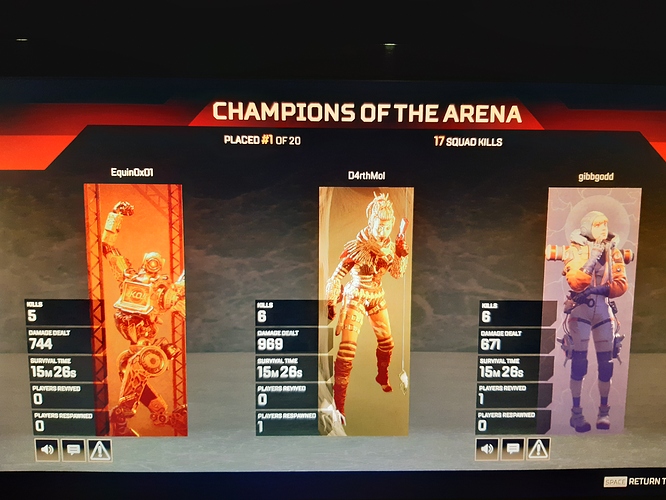 I watched Lirik buy the new cases last night and then pay a further $35 (i think) to unlock Bloodhound's heirloom… looks kind of expensive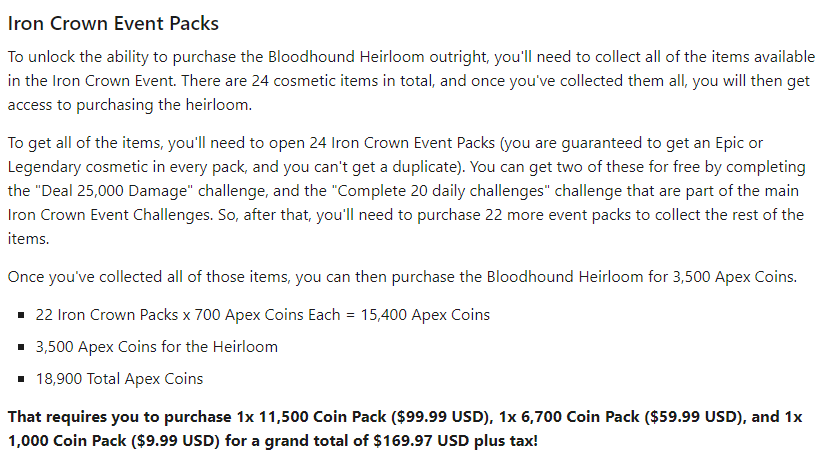 Oh ya,. it's crazy expensive. But then the heirloom items are made to be very rare. The Wraith heirloom could be found in a pack but the chances were extremely low - the only guaranteed way to get it was by opening 500 packs. So these are those type of items that people with spare money to throw at cosmetic skins. Definitely not me that's for sure.
That said the skins in the Iron Crown Packs are really good, a decent step up from previous content. As a freeloader (aside from buying the season pass) I'm more than happy to get what's in the 2 free drops.
Justified or not, this is really not the way a Community Manager and a Respawn Project Lead should be handling their community interaction…
Ya I don't know what they were thinking, they really couldn't afford knee-jerk responses. The gaming community can really be toxic and vicious, but at the end of the day as the face of the company you've got to keep your professional cool.
Thought I'd post some stuff on the new season in case anyone would like to jump back into Apex again. I've been enjoying this game consistently since it came out and I can honestly each new season is better than the last.
The best thing about Season 3 is the new map. I really like it, it's colourful and interesting. Each location has it's own look and feel. The map is more open and so sniper rifles really come into their own here. On that note the new Charge Rifle is a beast and so much fun to use.
The new legend, Crypto adds a new dimension to the gameplay with his recon drone and in the right hands he can be a powerful character in a team.
The pace of matches has changed a bit too with more squads being alive in the latter ring stages so it becomes quite hectic as the playable area gets smaller.
All in all I'm enjoying the new changes.