I dont want to believe it - its FAKE! (I honestly don't know)
I'm going to believe it is fake too. I don't need false hope.
However, if it ends up being true, I just hope ME1 gets a graphics overhaul, but not the game engine so much. I love the game too much for them to make it more like 2 and 3. I enjoy the variance in gameplay.
I'd be more likely to believe they'd only remaster ME2 and 3, and just not release ME1 again…
But again, I'm believing it is fake, also because I don't want to give EA any money… And I can't afford a PS5 by April.
The cynical side in me, which is most of me, hates this idea, cos it can be seen as a quick cash grab by the publisher. That story was epic, but only the first time, because that's how interstellar mysteries work.
I have to agree with this. I was blown away by my first playthrough of Mass Effect 1. I loved everything about it, even more than the second game (which I played first, btw). A couple years later I wanted to experience it again and it lost a lot of steam about 2-3 hours into the game - so much so that I stopped playing and never continued.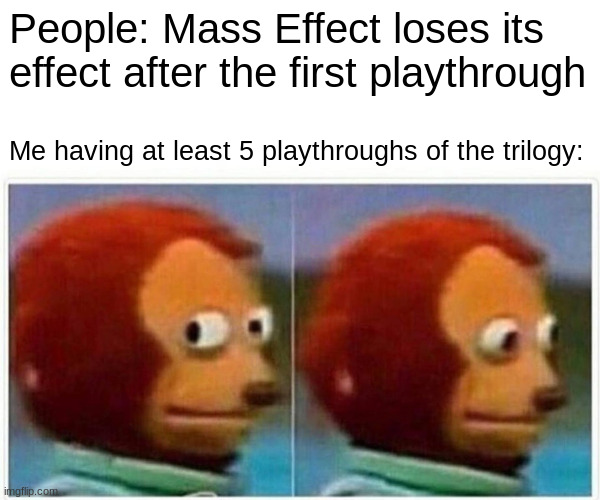 Man I would love this.
That said, as much fond memories as I have of Mass Effect 1, its pacing feels a little off nowadays. You jump right into the action in the beginning and then the next 5 hours you spend on the Citadel.
I don't normally play remasters but hell I would play a Mass Effect trilogy one!
Im just worried to get my hopes up - I want to play it so bad!
Just fix the horrible vehicle controls from ME1.
By my second or third playthrough, I was able to run all the missions and scan all the keepers in a sort of figure eight fashion without having to scour the place to find ones I missed. Doubt I can remember that.

No
I'm actually hoping that if it happens, that it will be a full game overhaul. Just a graphics upgrade would be pointless since that can already be achieved with mods. I did a full playthrough just recently from 1 to 3 so things are still fresh in my mind.