While the dates were seemingly leaked a while ago, SteamDB and others have confirmed that this years Steam Winter Sale will begin on December 20:
TechRadar suggests not only an end date of 3 January for the sale, but also some very specific start and end times for the sale:
The Steam Winter Sale will go live on December 20 at 9:55am BST / 1:55am PST / 4:55 EST / 8:55pm AEDT and will run until January 3 at 10:05am BST / 2:05am PST / 5:55am EST / 9:05pm AEDT.
Meanwhile, the second part of the SteamDB tweet has also been confirmed. Some Steam users are reporting the discovery of "Mysterious Card 4" in their Inventory, received for crafting a badge: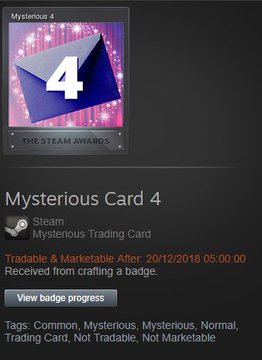 The assumption is that the Trading Cards will all be linked to voting in the annual Steam Awards.