Do you know of a way to automate copying all the recommendations from a column to another table with references?


I actually have no clue - but seriously if you need help I can do it?
Its fine. I'll finish it on Monday. On page 66 of 115 now.
I'm going home now.
I also wanna go home now
I am bored!
On monday if you want help just shout tho
Smooth move by Eskom. Announce some load shedding half an hour before it happens on a Friday night. Right in the middle of all those romantic Valentines dinners. Break out the candles lovebirds!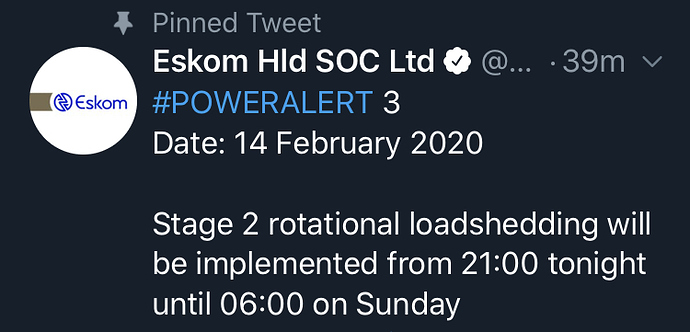 (And by "smooth move" I do of course mean dick move.)
This country has a great future to look forward to

A great future (we can dream!) maybe, but it sure as shit is not going to be a bright future

We're back to Stage 3 load shedding for the rest of the weekend.
Thanks for nothing Eskom.
From nothing for SONA to stage 3. Its almost too predictable by now.
Almost as predictable as them fucking up their fuck ups… we were supposed to be off from 9. An hour later, we still have power. Who knows when we're actually going to be turned off or back on again.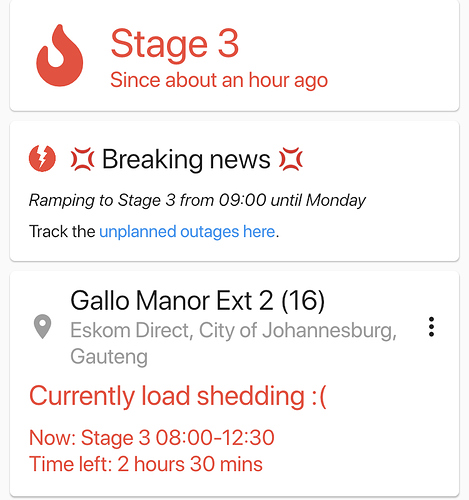 I'm apparently off at either 12:00 or 20:00 depending on which schedule I look at, will see if that happens.
i dont mind load shedding but i have it from 7 to 9 thats the worst time
oh yeah that is a horrible time
Ok so no loadshedding at 12:00 or at 20:00. I watched Under Siege instead.
Morning I wish we did not have loadshedding today but sigh.