This country has a great future to look forward to

A great future (we can dream!) maybe, but it sure as shit is not going to be a bright future

We're back to Stage 3 load shedding for the rest of the weekend.
Thanks for nothing Eskom.
From nothing for SONA to stage 3. Its almost too predictable by now.
Almost as predictable as them fucking up their fuck ups… we were supposed to be off from 9. An hour later, we still have power. Who knows when we're actually going to be turned off or back on again.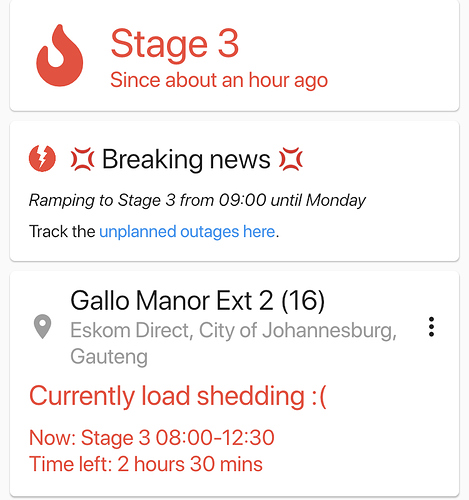 I'm apparently off at either 12:00 or 20:00 depending on which schedule I look at, will see if that happens.
i dont mind load shedding but i have it from 7 to 9 thats the worst time
oh yeah that is a horrible time
Ok so no loadshedding at 12:00 or at 20:00. I watched Under Siege instead.
Morning I wish we did not have loadshedding today but sigh.
Morning guys

Hope you all had a lekker weekend and that this week will be awesome. Some awesome tournament happen this weekend. The Six Invitational 2020, with SSG ( Space Station Gaming) and NIP ( Ninja In Pajamas) taking first and second place.
One awesome tournament with alot of unexpected results and excellent sportsmanship
I need some more weekend. Yesterday was such a waste. No power the whole day and then loadshedding as well.
Started on Friday teaching myself load testing with jmeter. My head hurts but I am getting there. Actually learned how to measure response times from querying our in house API this morning. Very proud of myself.
…/pats back
Mornings!
I think I have a new addiction… I can't get enough of how-to cooking shows on YouTube… All I want to do is make the stuff, mainly cakes and brownies… I found this awesome sugar free chocolate brownie recipe that I will probably be trying to day using sweet-potato

Morning people of the palace
Weekend was to short
Im not mentally ready for this week