Ahead of the Xbox E3 2019 briefing, the Microsoft store has just been updated with the availability of Xbox Game Pass Ultimate to the general public (it's been available to selected Xbox Insiders only for a few weeks.)

Microsoft confirmed that Xbox Game Pass Ultimate includes Xbox Game Pass for Console Games, Xbox Game Pass for PC Games, and Xbox Live Gold.
Pricing is set at $1 for the first month, $15 per month thereafter. For us locals it will be R15.90 for the first month, R199.00 thereafter. I assume there will be 3, 6, and 12 month options available as well, with progressive reductions in monthly cost, but need to confirm that still.
Also unclear at this stage is how subscribing to the new Ultimate service will affect any existing Game Pass or Live subscriptions you have going at the moment. The store page does say "The purchase of Xbox Game Pass Ultimate automatically upgrades your Xbox Live Gold and Xbox Game Pass memberships" but how that impacts existing subscribers I'm not sure.
Much like the situation with Origins' Basic vs. Premium Access service, there are suggestions that XGP Ultimate subscribers will receive access to better versions of games, compared to XGP Standard subscribers. The example I've heard is that Standard subs will have access to the standard edition of Gears 5, while Ultimate subs get access to the Ultimate Edition of the game.
Hopefully more confirmation later tonight during the Xbox Briefing.
UPDATED:
Xbox Games Pass for PC is now also live and available on the MS Store!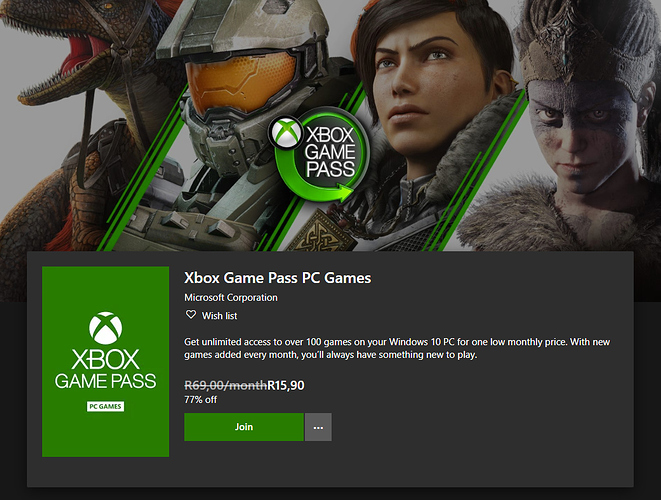 Launch special of $1 (R15.90) for the first month again, then R69 per month going forward. If you're only intending to play on PC then this is the one for you. Sales page promises "Get unlimited access to over 100 games on your Windows 10 PC for one low monthly price".
Games are already appearing on the store with the "Included with Game Pass for PC" tag:

Here's a list of the games that have been found to be included in Game Pass for PC.