In June last year, Splinter Cell fans were told that Ubisoft would be picking the IP back up, but it could be a long wait until anything materialises. It seems like 2018 might be the year we see an announcement, however, as an accidental listing points to an E3 reveal.
Spotted by a keen eyed Redditor, "Tom Clancy's Splinter Cell 2018" popped up on Amazon's North American website. Before its prompt removal, this was expected to be a placeholder for the title that could very well see an announcement during this year's E3 held in June if the item model number is anything to go by.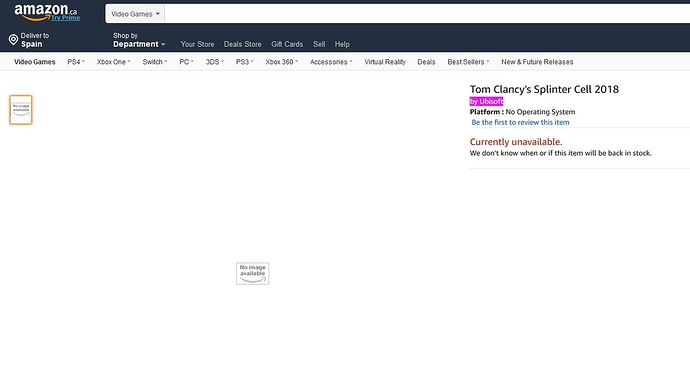 Interestingly, PC is the only listed platform on the leak but the Splinter Cell series has a large presence on consoles throughout its 16-year life. Speculation also points towards a possible Switch release given how closely Ubisoft has been working with Nintendo in recent years.
Ubisoft CEO Yves Guillemot has promised that the firm will pick Splinter Cell back up, but fans will have to "wait" to see something surrounding it. In fact, fans have been waiting since 2013 when the last title, Tom Clancy's Splinter Cell Blacklist, was released for Xbox 360 and PlayStation 3.
The likelihood of a new Splinter Cell cropping up seems fairly high given that series veteran Michael Ironside has been working with Ubisoft on an undisclosed project since 2016. Ironside is known for playing Splinter Cell's main hero Sam Fisher for the first five titles before being replaced for Tom Clancy's Splinter Cell Blacklist by Eric Johnson.
Source: Kitguru