Here's a really interesting and quite unique gaming concept.
A game that runs at the bottom section of your desktop so you can have it running while you do other stuff, or work, on your PC.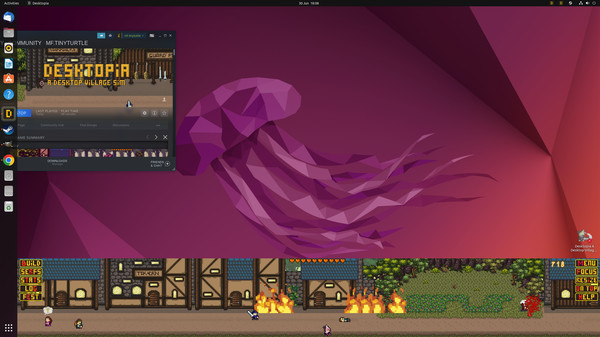 A completely original approach in PC gaming: designed with functionality in mind, Desktopia allows you to use your PC for multiple purposes on a single monitor.

Clever UI: with resizeable pop-out windows which can be arranged anywhere on your screen.

A playable character which levels with your village, so you can jump into the action whenever you want.

Detailed logs and statistics arrayed in beautiful charts and graphs.

Spy Mode: focus the camera on any villager, any time, and watch as they live their life.

Resizeable game world, with the option to have it 'always on top' of other windows.

Quick-hide button that puts the whole game into the windows tray… in case your boss come along while your (sic) playing!
Now you can take your procrastination to the next level! Jokes aside, this is an intriguing concept and it's worth wish-listing the game for when it comes out.
Here's an in-depth video about how the game works for those interested: