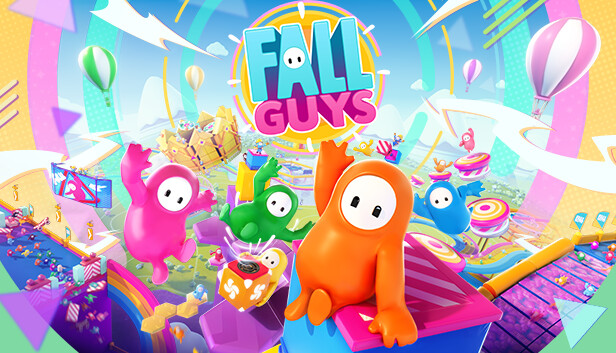 Currently the 4th most popular game on Steam (according to the concurrent player count) Fall Guys is a bright rainbow of fun amidst the more hardcore top sellers.

Fall Guys: Ultimate Knockout flings hordes of contestants together online in a mad dash through round after round of escalating chaos until one victor remains! Battle bizarre obstacles, shove through unruly competitors, and overcome the unbending laws of physics as you stumble towards greatness. Leave your dignity at the door and prepare for hilarious failure in your quest to claim the crown!
Think Takeshi's Castle / Ultimate Wipeout.

Massive Online Pandemonium: Dive into a series of ridiculous challenges and wild obstacle courses with masses of other competitors online, all with the hopes of making the cut and advancing to the next round of mayhem.

Competitive & Cooperative: Shift between competitive free-for-alls and cooperative challenges where the losing team all get eliminated!
Comically Physical: Watch in delight as your fellow competitors bend, bounce, and bash their way to hilarious, physics-based failure!
They've done a good job with the netcode and the physics work as you'd expect them to as you get shoved around by the crowd.
Underneath the bright exterior is a game that provides a good challenge to your skills, while at the same time being light-hearted enough that failing doesn't sting too much.
The game is nicely priced, Devolver seems to give us Saffa's decent regional pricing so Fall Guys is a mere R130 for the base game (the DLC is purely cosmetic).
I've been enjoying the game, it's great for that short little burst of gaming in between things.