I actually can't believe this is legal. Im struggling to understand it.
This is a thing of beauty! In a way these young investors have turned the regular stock market into a cryptocurrency market - well almost since the volatility management measures have kicked in.
The future is now, old man.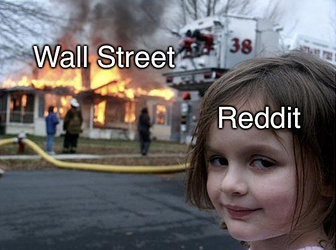 But in all seriousness, I feel like "big money" will lobby, regulate and shut this down in time.
Been reading up about it this morning. So Wall Street "bets" millions that Gamestop will devalue by borrowing stocks at higher price, then giving it back at low price and making money (oversimplified).
So the community thought yeah-nah-ah, not today big money! And bought so much stock that the stock price went up, and Wall street loses.
As much as I like this story, I have a few problems:
there are normal people's retirement investments losing money
Gamestop is probably not the best company to do this on to prove a point. Flogging a dead horse.
how are big companies allowed to make so much money off of another company's slow demise?
Wall Street scares me with the number they are talking about.
This could be an episode of Billions!
This is the bit that WallStreetBets are claiming as their reason for doing this. Big hedge funds are given big leverage, in other words are allowed to invest more money than they have. You, an individual, can also get leverage, but waaaaaaaaay less, and that means that control of the markets stays in the hands of the hedge funds, who can manipulate it to suit their needs at the detriment of the individual investor. This stunt at least showed the hedge funds to not underestimate the power of the retail investors.
It's madness those, the market volatility took a good 3% off my own meagre investments overnight! Hopefully it'll recover that just as quickly

You know, I just have to say…
This whole situation makes me very happy.
Edit: And for those of you who don't know wtf is going on…

https://www.gurufocus.com/term/FloatPercentageOfTSO/GME/Float-Percentage-Of-Total-Shares-Outstanding/GameStop-Corp
It's a lot of numbers and words that sound like they have no meaning, but ultimately what it means is that almost 65% of GameStop stock is currently being held by Institutional ownership. This according to Invetopedia means:
"Institutional ownership is the amount of a company's available stock owned by mutual or pension funds, insurance companies, investment firms, private foundations, endowments or other large entities that manage funds on behalf of others"
So GameStop's stock is heavily skewed to ownership of hedgefunds. When Reddit got the idea to short squeeze the stock, these companies jumped onto the idea to turn massive profits, ultimately causing the massive spike. While the individuals did play a part, this is unfortunately not a "David vs. Goliath" story. It's more an openly display of Wall Street companies making money by hiding behind movements.
So while Reddit may claim the victory, they are merely a drop in a multi-billion dollar pool controlled by the wealthy.
The best explanation I've heard of shorting stock so far is as follows:
Imagine you borrow a physical copy of GTA from your friend. You see that BT Games is buying for R100, so you sell it to them immediately, expecting the price to go down later so that you can buy it back later for R80, give it back to your friend and make R20 profit.
Something happens, the game is in high demand and it's flying off the shelves. The high demand pushes up the price, it's now R150.
Your friend asks for his game back, and you have no choice but to buy it for R150 and end up losing R50 on what you though was a guaranteed profit.
In theory, there's no upper limit on how much they can sell it for, so if it's R1000 and your friend wants his game back, you have no choice.
Here are some of the links that helped me gain a better insight into what was happening and why:
WallStreetBets doesn't have the purchasing power to do this. We simply made it public and piggybackef off of something bound to happen like a sunrise coming from the east."4. Covid hits and company suffers
5. Wall Street vultures want to kill it off and start shorting it
6. Stock at $4 and they continue with no regard to actual value… Let alone bankrupting a firm that employs 50.000
7. Some people (Michael Burry) start running thr actual numbers and see there is some value, they start investing (mid 2019)
8. Few regular joes notice the same thing and find out shorts will continue to fuck with stock and push it down no matter how it is performing. They short it 139%… Sold more shares than there are.
9. For shorts to cover, they need to buy back the shares. They pay interest on the shares they bought to immediately sell short. If they start buying back the price goes up.
…
13. they lose 3bn so they get bailed out by their rich friends as not to get margin called. until here they could have saved themselves if they flipped-

they return the next day and try to repeat. - instead, it backfires and stock keeps shooting up. They are on their knees at market close, about to get margin called ($175 per share)
Elon tweets afterhours and it punches up the stock even higher by other wallstreet funds (like BlackRoc)/($220) probably about to wipe that fund and finish some careers.
What goes up, often comes crashing down!
"I just want my money back but I know it is gone," wrote an investor from the Wallstreet Bets Discord named Slik, a 52-year-old Nevada resident. On Friday, Slik had invested $1.1 million in options on GameStop stock and lost $850,000.