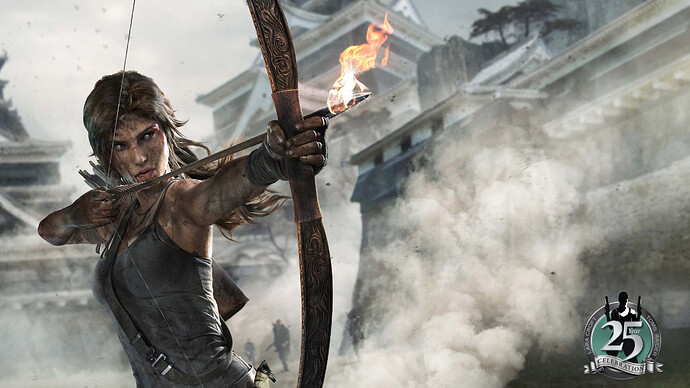 This week marks the 25th anniversary of Lara Croft raiding her first tomb. On behalf of Crystal Dynamics, Eidos Montreal, Core Design, and many other talented teams who have brought Lara to life across entertainment mediums – thank you for going on 25 years of adventure with us.

While we have been celebrating this milestone all year, we saved some special announcements for today to celebrate the original launch in October 1996 – from nostalgic content to partnership news and gifts to our fans.
Included in the Anniversary Celebrations, which you can read about in detail on the official Tomb Raider 25 blog:
Restored Tomb Raider Design Doc (1995)

You can download the entire PDF here (direct download) and browse through a piece of Tomb Raider history at your leisure.
Tomb Raider: The Official Cookbook and Travel Guide
Tomb Raider: The Official Cookbook and Travel Guide is now available for purchase! The Official Cookbook and Travel Guide features over 40 recipes from the many locations Lara Croft has visited throughout her 25 years of global adventures. Also included is a historical overview of these beautiful cities and countries, and tips for travel should you want to follow in Lara's footsteps.
Tomb Raider Prime Gaming Giveaway
From November 1st through November 14th, Crystal Dynamics and Prime Gaming are giving away Rise of the Tomb Raider on PC for free for all Prime members! To claim the free game, Prime members should visit gaming.amazon.com and select "Games with Prime" to take advantage of this offer.
Tomb Raider Games Sale & Prime Gaming Giveaway
Tomb Raider games sales can be found on Steam, Stadia, Humble Bundle, Green Man Gaming, GOG.com, the Square Enix E-Store, PlayStation, and the Xbox Games Store with discounts up to 89%.
In addition to being able to purchase individaul games and various Tomb Raider bundles, the Steam sales page for the Complete Tomb Raider Collection is a "Complete Your Collection" style offer with an overall 90% discount on only items that you may not yet own - well worth a look if you're a fan and a completionist who may be missing the odd older title or some DLC from one of the more recent games.
Additional Updates and Info
Details on all of these can also be found in the Thank You to the Fans - 25 Years of Tomb Raider! blog post:
Lara Croft Coming to Switch
Update: Tomb Raider Reloaded
Update: Tomb Raider Anime Series
Experience Tomb Raider Live
Tabletop RPG Reveal: Lara Croft's Tomb Raiders
Tomb Raider 25 Digital Sticker Pack
Coming Soon: Tomb Raider 25 Reimagined Art Sale
Extra Life Auctions
---