Showcase your keyboards, or give us a story of your journey to find your ultimate keyboard. Whatever floats your boat, we know it's a very subjective thing. I'll start.
It's been a long journey, to find good keyboards, so this is more of a highlight reel that stands out. My use cases have varied over the years: my job needs a keyboard, I game a fair bit, and spent over a decade LAN'ing when i think that was at it's height (it's dead now), mobile office, multi KVM like environments, makes for enfuriating shopping criteria. These are some of my highlights over the past 15'ish years.
I'll start with the first keyboard, I regarded as the best keyboard ever made. Microsoft Sidewinder X6


Back when mechanical keyboards hadn't made a come back yet. It sported a keypad you can magnetically disconnect and move to the left of the keyboard, dials for volume and keyboard brightness, dedicated macro buttons, media buttons, higher performance membrane keys, half height keys (not quite laptop keys, but definitely not full key height of normal keyboard), windows built-in integrated drivers ie. nothing extra to install. It checked so many boxes at the time, but seemed to go under the radar. I liked this keyboard so much, I bought 3. It was perfect for everything. More responsive than normal keyboards, for gaming or just normal typing. Could become tenkeyless (TKL) for LAN'ing where desk space was always an issue. Macros for my CS buys. This is the OG keyboard, that had it all. I still have one left. The two others went to close friends.
For a long time, I used the Microsoft Designer Bluetooth Keyboard/Mouse combo for work. They ripped off Apple, and made a faaaar better product. Who would have thought that was possible. You didn't need the force of god to push a key. The feel of the keyboard was this matte'ish rubbery something, that just felt excellent. Easy to clean, light, with nice little touches, like magnets to hold covers in place. I still have it. Still use it, from time to time.


It was only bluetooth, so pretty much only for work at the time.
Next we have a Red dragon Kumara K522


I was looking to half heartedly try mechanical keyboards, and it was relatively cheap. Well, you get what you pay for. Well, it was a let down. The keys are louder than your Aunt speaking about private stuff at a coffee shop. And some of the keys backlighting fails sometimes. Still works fine. No software needed. Oh, it's a full metal base plate, that you can go to war with. Ultimately, it being TKL, it landed up below the sim racing monitor. It's a medium size foot print, and the only time I need loud keys, is when you're typing with a VR headset on, you can even hear it through that.
Next as it happens, a friend that gifted me his old Corsair K68, and man oh man, was it great.


It was a full keyboard, so I did feel like I was giving up desk real estate, but it's all good. Superior mechanical switches, akin to cherry MX reds I think. I even bought a white set of keycaps, to pimp my ride a bit was gorgeous.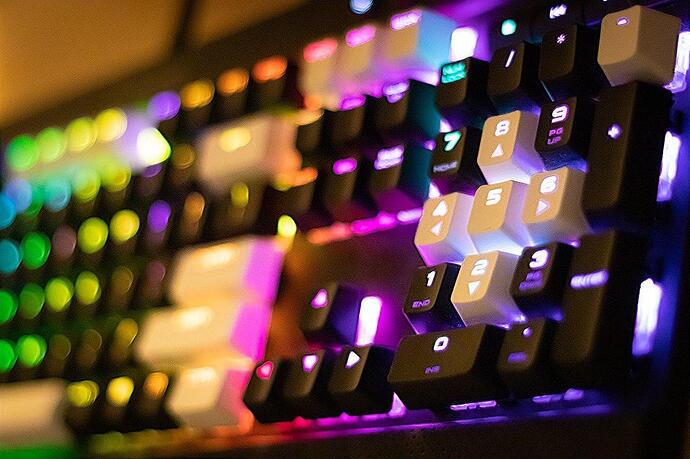 That all said, I hate iCUE, Corsair's software. It's garbage.
I did find a Logitech G613. A godzilla of a keyboard, the size of a youtuber's ego.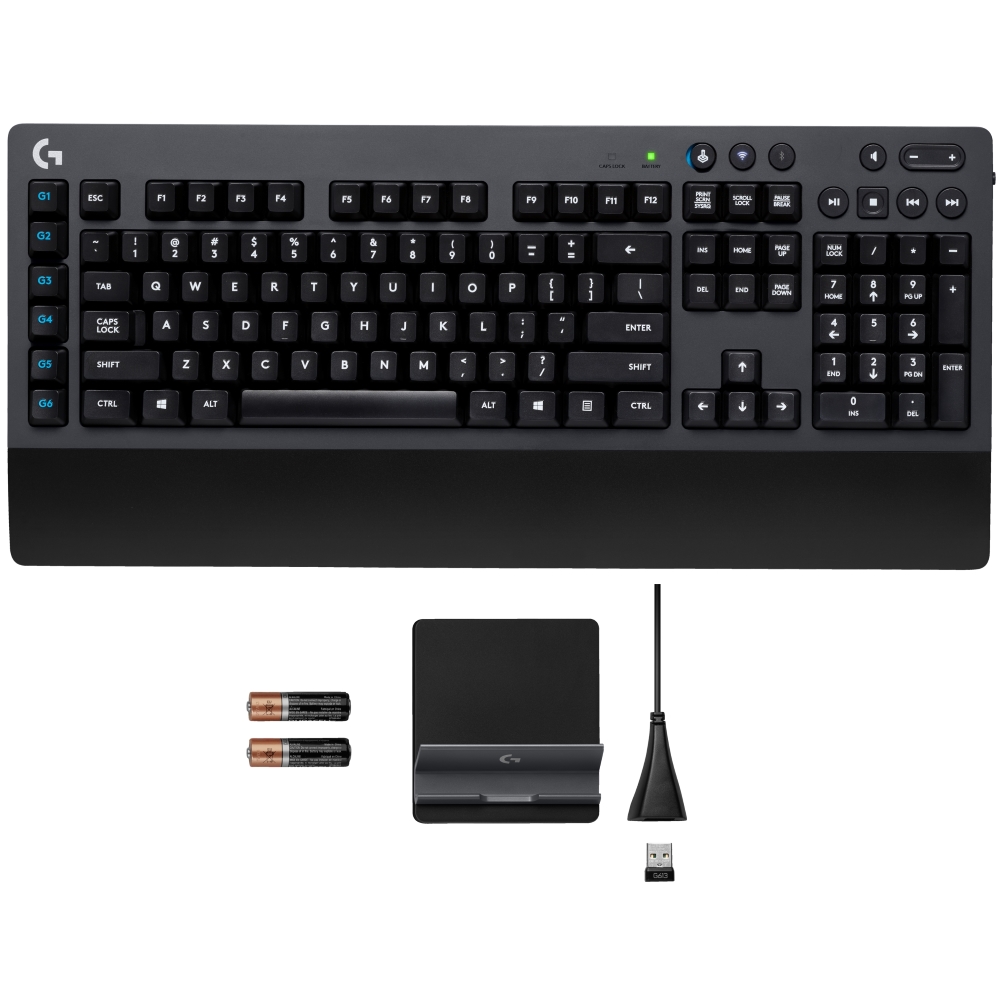 Why did I keep it? It had a discrete wireless receiver, and built-in bluetooth. And to make it even better, it buttons to easily switch between both. Say whaaat? I could game and work from the same keyboard? You have to understand, I had gone through the trouble of finding a USB switch, with button to switch my keyboard between laptop and desktop. So it was constantly irritating me to need all these bloody wires everywhere. I still use it but not on the main computer/simrig. Not enough flash you see, or hipster rep.
I moved on to my prize keyboard at the moment. Ducky One 2 Mini Year of the Pig 2019 edition. No the other one

Except mine looks like this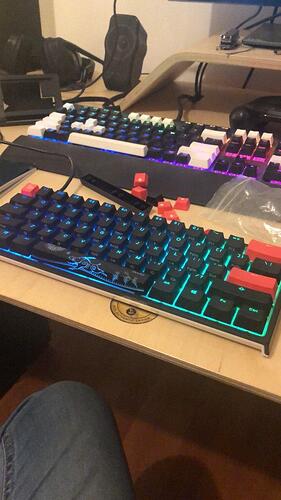 It was at this point, I realised all the other keyboards I'd used up until then, couldn't hold a candle to this. Build quality, switches, onboard setup, no software needed. So many compatible keycaps available to make it look the way you want it to. The only thing, I'd say I didn't want for work purposes, was the missing arrow keys. You know what this means right? I had to keep looking. It should be known, rebeltech had gone under by this time, so there were no local options available. And the way I bought this, was a little dodge.
Last keyboard I found, was the Cooler Master SK622.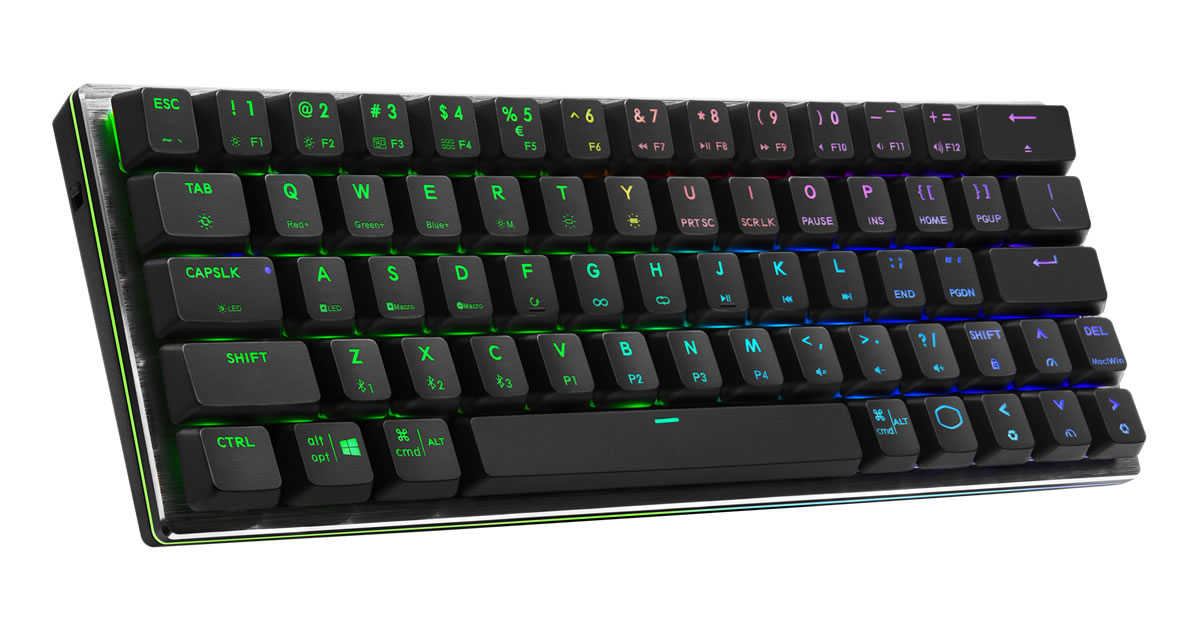 The most infuriating keyboard to setup. Yet once it was, it was fantastic. But that was shortlived, admittedly not because the keyboard sucks. Windows bluetooth, needs to be taken out to the yard, and drowned in the pool, slowly. Endless problems. So I mentally moved on, and only used it for linux. For that use case, this thing was heaven. Pretty close to perfect layout, keyboard specific multi key shortcuts, that didn't kill my fingers. Mechanical but more quiet switches, which didn't annoy the wife. Keycap text specific to both windows and mac. Multiple profiles to use between bluetooth connections. All the RGB bling you could ever want. I was content. And then it started ghosting. It hasn't stopped ghosting. Safe to say, it's not being used at the moment. The more I used the Ducky, the more I found fault with the Cooler Master, and praised the Ducky. Switches are better, key stabilisation is excellent. Actuation is intentional and provides no doubt that you have pressed the key. More customisation. More upgradability. More fixability. More more more.
Anyhoooo, that was far too long. Thank you for coming to my tedtalk. Now you? What are you using that you like, or you're proud of, or you learnt a lesson on?