I recognize that hole! This will be a definite purchase for me (I hope)
Here's the trailer that that teaser teased. (Frikken marketers!)
And a sneak peek of Career Mode:
Would love to, but sadly looks like 2K are not doing regional pricing for us, so at €60 - €70 it's looking a touch too costly for me…
I never said a day 1 purchase

I'll wait for it to go on sale on the PS4
Oh my cap, fedora, beanie and any other kind of hat that I would ever own! That looks like the dream golf game that I've been waiting for! Now I'll just scour the internet for a decent price the moment it launches, but I think that'll be the first sports game I ever buy at launch.
Thread necro to comment on golf:
Looks like the game is out and is not too bad. It's on Steam as well
Been watching since the day it launched. It's quite expensive at the moment, so I'm waiting on a nice discount before grabbing it. I'm super stoked about it though! It's high time we get a decent golf game with a proper PGA career again.
Trust me on this: PGA 2K21 is the best golf game available with a great career mode and it runs on just about any PC! Love it!
Dammit man, you're gonna make me spend almost a grand to grab the game!
Well if you do, look me up! It really is the best golf game out there. But wait for sale

Will definitely grab this on sale for PS4 if/when.
Now 2k, do NHL!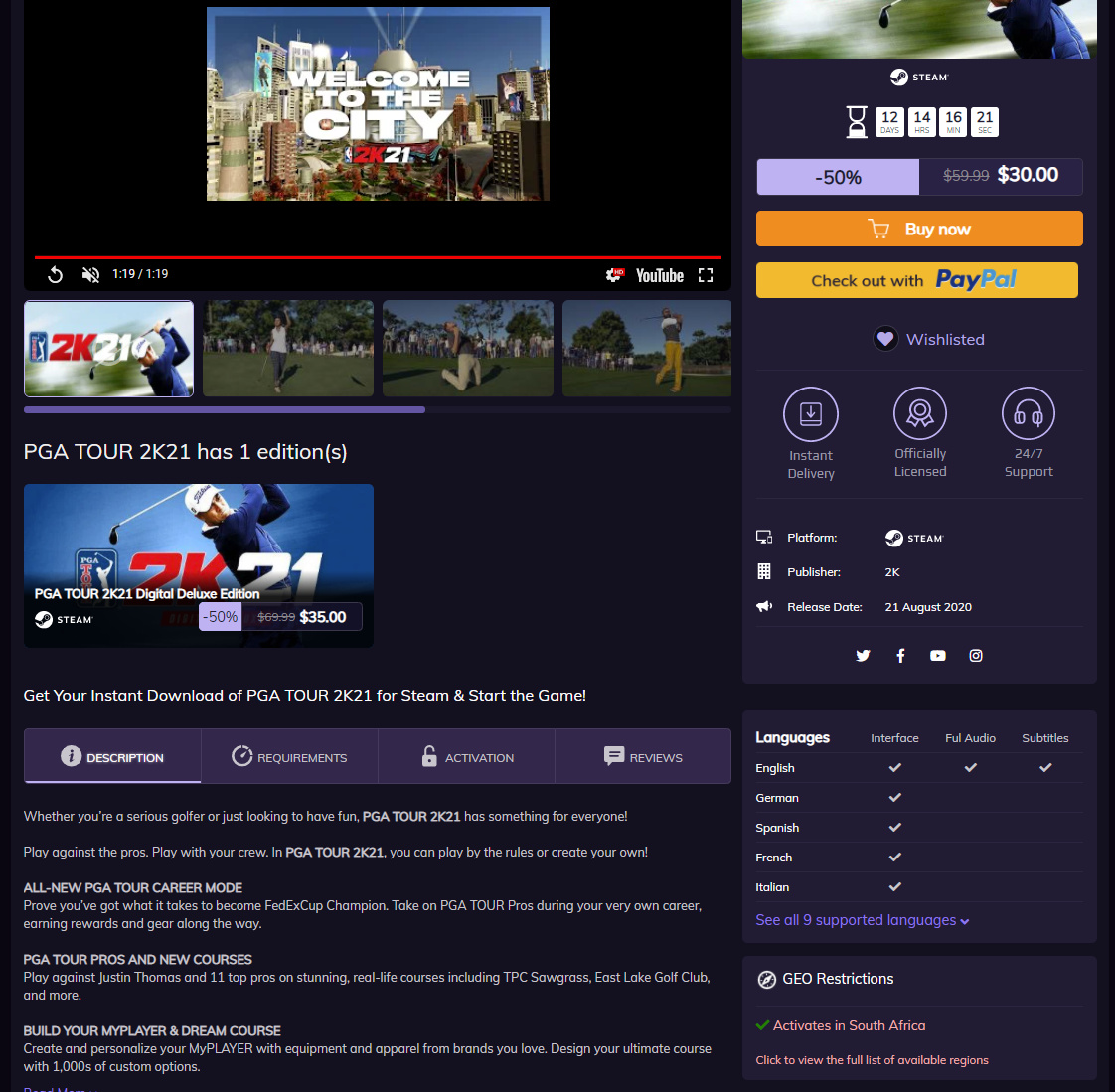 Found it on -50% sale on a new (for me) site called 2Game, which I got to from IsThereAnyDeal? Looks like they're authorised resellers, and I could use the small balance in my PayPal wallet to pay for it, so no need for credit card numbers into an unknown site.
If you add the coupon code GLHF10 on checkout, you get an additional 10% off, so I paid $27 (~R415) for it.
https://2game.com/en-us/pga-tour-2k21
Note that I had an initial issue getting my code to show - kept telling me key wasn't valid in my country, which is clearly wrong. My support ticket was answered within an hour overnight, and the issue was resolved - key received and activated no problem. It has to still be confirmed, but I believe the reason I had a problem was because I registered my 2Game account using my Twitter account, and this didn't insert a country into my Account Information screen. I sorted that out this morning by doing a forgot password request and creating an email and password login instead of using Twitter, which then allowed me to insert my country. If you do create an account there, maybe use an email address to register from the get go, and then go into the account settings and add your country before ordering.
Even me, I want in on this action!
I still got the same problem as you though.
Edit: Support fixed it within 10 mins. Pretty good service
This pops up when opening the site, so maybe their 10% discount code changed?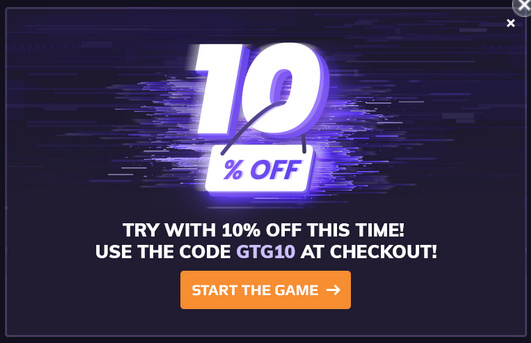 Yeah, got that one too, but then the one with GLHF10 when doing the checkout, so I used that instead.
Maybe mine was a first time shopper code? In hindsight, that also may be why @Deadlypinecone and myself got errors on buying? Maybe they do a first time buyer check to make sure our payments go through properly or some such?
Either way, I'll see what happens if I ever buy from them again, and update then.
Good sale, but I am waiting for it on PS4
Got the same country error. And I signed up with a "normal" account specifying my country. Waiting on their support to sort it out…
Okay, so it's officially odd. I hope that it either something specific about codes for this game and South Africa, or it's a first timer thing. Because if this happens every time, buying from them will not be happening to often again.
Their support did reply within 30 minutes, so I'll try activating it soon.