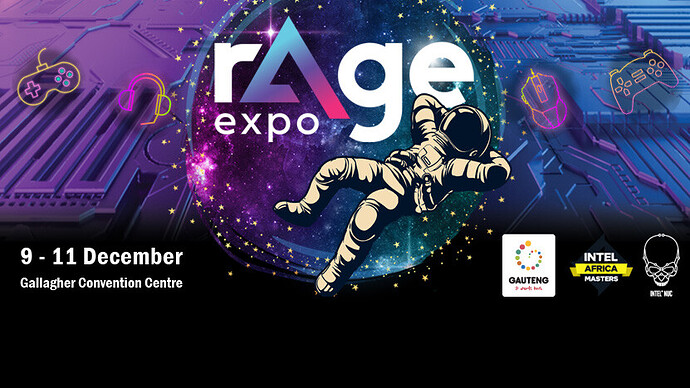 So it seems it's rAge 2022 this weekend. Who knew? After missing a couple of years through Covid and sponsor issues, the expo is back this weekend 9 -11 December at the Gallagher Convention Centre in Midrand.
There's a big focus on esports at this years' event with a number of South African esports organisations hosting games including Minecraft, Rocket League, Overwatch and the CS:GO Intel Africa Masters Grand Final happening as well.
Tickets are available to buy online from 1-8 December via Howler:
Day Pass – R180
Weekend Pass – R400
Tickets purchased at the door will be R190 for a Day Pass and R420 for a Weekend Pass
Expo highlights include:
RGB Gaming will be hosting a series of competitions aimed at bringing together teams from a variety of schools where esports has taken off in popularity. 14 schools are set to take part in Friday's Minecraft Speedrun tournament at rAge Expo, with six high schools taking on the Overwatch2 tournament on Saturday. Along the way there will also be time for Minecraft Build challenges and PvP, with Minecraft coding challenges taking place on the Sunday.
Also making its debut at rAge will be the Intel Africa Masters CS:GO finals, which is the first of its kind on the continent. Four teams from the African continent have made it through the regional qualifiers and will be competing against each other to take home the title of African champions.
Mamelodi Sundowns F.C. and Mettlestate are hosting a R200 000 FIFA 23 tournament with the semi-finals and finals to be held at rAge. The tournament was announced to celebrate Sundowns' inclusion in FIFA23 and has attracted a large number of gamers, all vying for one of the top 8 spots, in four live qualifiers around the country and an online event leading up to the rAge weekend.
There is another R50 000 on the line in the Incredible All Star Gaming Rocket League finals, which are also being held at rAge. Mettlestate have been presiding over the online qualifiers with playoffs taking place this week which will see the top 2 teams making their way to rAge.
the Ultimate Gaming Championships are also back at rAge 2022 with rAge Drive, their action-packed, awesome fighting game tournament. Friday 9 December will see players take on the Street Fighter 5 tournament with Tekken 7 players getting their chance on Saturday 10 December. The prize? Winners of both tournaments will qualify for the Red Bull Hit The Streets national final which is taking place in Cape Town on 17 December.
The

#C3ZA

Call of Duty Community Clash, hosted by ACGL and Predator, will see some of SA's best COD: Modern Warfare 2 teams go head-to-head for a share of R40 000.
For the gamers who will be attending the

#NAGLAN

, Red Bull is hosting their well-established Red Bull Flick 2v2 CS:GO competition in the LAN. Registration will take place on the Friday, and the games will take place on the Saturday.
rAge Expo, South Africa's award-winning go-to mega event for video gaming, technology, esports, geek culture and digital entertainment, has been bringing people together for two decades. It's the ultimate escapist destination where you can immerse yourself in PC, mobile and console gaming, digital lifestyle gear, edutainment, gadgets, creative arts, robotics, esports, smart home technology, cosplay, virtual reality, locally developed games, show specials, competitions, giveaways and so much more!