Oh flip, the best collection by far!
League Top 15 after Bahrain.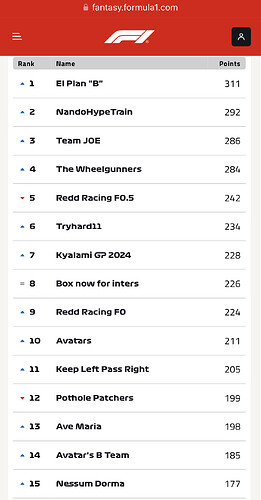 @DarthMol's El Plan B team the only one to scoop 300+ points

It's clearly a case of Qualifying performance not translating into Race points for the Pothole Patchers. The -20 points for Charles' DNF killed any hope for Redd Racing F1. My 2nd and 3rd teams did better than my main.

I think I'm really bad at this, as such I may make a graceful exit.

Woohoo! I can thank the man with El Plan for netting those points for me. Had the 3x drs on him for the weekend.
Also lucky to have used the No Negative chip with my one team containing Leclerc
I put a DRS boost on Le Clerc, got double minus for my efforts.
There's still 22 races left this season! Plenty opportunity to make a huge difference to the points.
Same here


@Beo - I play these games with my heart and not my head, so I will always fail.
I had no idea the risks involved in triple points! But then, when have potholes ever delivered on their promises!?
I think I did pretty decently for forgetting to add chips and boosts and stuff.

i had leclerc in i think all 3 of my groups, with ferrari as my team of choice for 2 of them…im abandoning now so i can spare myself the pain
I'll wait for FP2 results before I start making decisions.