I've been tracking the release of Old Guard for months. Really been looking forward to it. Charlize Theron and Chiwetel Ejiofor? Sign me up!
From the trailers and blurb (I've not read the graphic novel) it sounds like a modern Highlander-esque story. Also tremendous video game potential, though I'd be hesitant to recommend a tie-in game now that it's been made a movie.
It's out on Netflix today.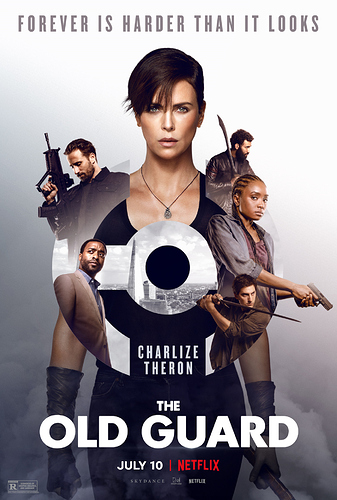 The Old Guard
Film Release Date: July 10, 2020
Director: Gina Prince-Bythewood
Screenplay By: Greg Rucka
Based on the Graphic Novel Series By: Greg Rucka and Illustrated by Leandro Fernandez
Produced By: David Ellison, Dana Goldberg, Don Granger, Charlize Theron, AJ Dix, Beth Kono, Marc Evans
Cast: Charlize Theron, KiKi Layne, Marwan Kenzari, Luca Marinelli, Harry Melling, Van Veronica Ngo, with Matthias Schoenaerts and Chiwetel Ejiofor
Main trailer
Forever trailer
From comic to screen trailer
Combat training trailer