Ubisoft+, Ubisoft's game subscription service, is officially available on Xbox consoles through Ubisoft+ Multi Access!

In order to take advantage of this new option, Xbox users must be subscribed to Ubisoft+ Multi Access and connect their account to their Xbox profile, gaining access to a vast and growing library of games and 10% off in-game currency.
Yeah, so that happened. And par for the course, Ubisoft have gone with an additional €3 on top of the already stupidly overpriced €14.99 standard Ubisoft+. Ubisoft+ Multi Access will cost €17.99 per month.
You do get all of the "benefits" of Ubisoft+ plus (ha!) the ability to play 65-odd Ubisoft titles on your Xbox. But yeah. R360 per month. Nah.
---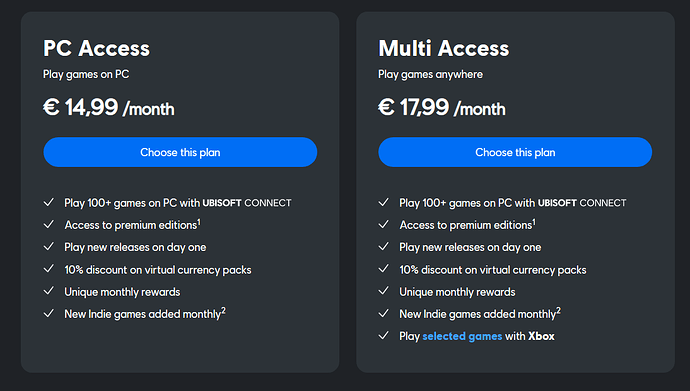 "Partnering with Xbox to launch Ubisoft+ Multi Access on Xbox consoles enhances our subscription offering to provide more value and choice to our players," said Ubisoft Senior Vice President of Strategic Partnerships and Business Development, Chris Early. "Xbox console players now have access to our worlds through Ubisoft's extensive game library."
The Ubisoft+ library allows players to dive into flagship titles like Assassin's Creed Valhalla, Far Cry 6, and The Division 2, and includes access to premium-edition content and DLCs, including Assassin's Creed Valhalla: Dawn of Ragnarök. Check out the full list of available games below:
Anno 1800 (Xbox Series X|S only)
Assassin's Creed Rogue Remastered
Assassin's Creed IV: Black Flag (includes Assassin's Creed Liberation)
Assassin's Creed Unity (Gold Edition)
Assassin's Creed Valhalla (Ultimate Edition)
Assassin's Creed Chronicles: China, India, and Russia
Assassin's Creed III Remastered
Assassin's Creed Odyssey (Deluxe Edition)
Assassin's Creed Origins (Gold Edition)
Assassin's Creed Syndicate (Gold Edition)
Assassin's Creed: The Ezio Collection
Battleship
Boggle
Child of Light (Ultimate Edition)
Family Feud
Far Cry Primal (Deluxe Edition)
Far Cry 3: Blood Dragon (Classic Edition)
Far Cry 3 (Classic Edition)
Far Cry 4 (Gold Edition)
Far Cry 5 (Gold Edition)
Far Cry 6 (Gold Edition)
Far Cry: New Dawn
Fighter Within
For Honor
Ghost Recon Breakpoint (Ultimate Edition)
Ghost Recon Wildlands (Ultimate Edition)
Grow Up
Hungry Shark World
Immortals Fenyx Rising (Gold Edition)
Jeopardy!
Monopoly Plus
Monopoly Madness
Rabbids Invasion: The Interactive TV Show (Gold Edition)
Rabbids Party of Legends
Rainbow Six Extraction
Rainbow Six Siege (Deluxe Edition)
Rayman Legends
Riders Republic
Risk
Risk: Urban Assault
Scott Pilgrim vs. The World: The Game
Scrabble
Shape Up (Gold Edition)
South Park: The Fractured But Whole (Gold Edition)
South Park: The Stick of Truth
Starlink: Battle for Atlas (Deluxe Edition)
Steep
The Crew (Ultimate Edition)
The Crew 2
The Division (Gold Edition)
The Division 2
Trackmania Turbo
Transference
Trials Fusion
Trials of the Blood Dragon
Trials Rising (Gold Edition)
Trivial Pursuit Live
Trivial Pursuit Live 2
UNO (Ultimate Edition)
Valiant Hearts: The Great War
Watch Dogs (Complete Edition)
Watch Dogs 2 (Gold Edition)
Watch Dogs: Legion (Deluxe Edition)
Wheel of Fortune
Zombi
---