As if we needed another reason to dislike Ubisoft in its current form and with its anti-consumer actions.
Ubisoft has confirmed that users who don't sign into their Ubisoft account could lose access to their games, their Ubisoft store points, and any Ubisoft links. While the account closure policy is not new (Closure of inactive Ubisoft accounts | Ubisoft Help) it has only come to light this week as an Ubisoft user highlighted the email warning they received from Ubi, confirming that their account had been suspended and was pending deletion in 30 days.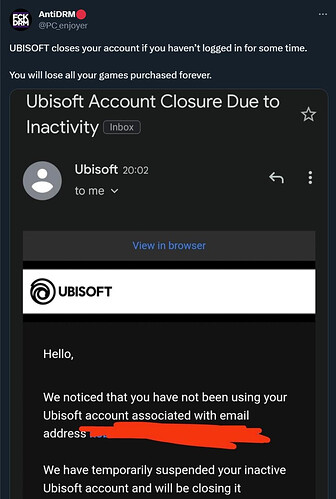 The note that "We may also close long-term inactive accounts to maintain our database." in that Support article suggests that maybe Ubisoft need to improve their database servers if they're unable to maintain a bunch of dormant account data. Remember, this is the same organisation that dropped online server support for a host of games in order to (at least partly) "clean up our servers".
There's no clear indication of whether this log in needs to be in the ugly Ubisoft app or whether a quick log in to one of the many Ubisoft store pages will suffice. It's also not clear exactly how long an account needs to be inactive for before the deletion warning is triggered.
I personally haven't used the Ubi launcher for a good few months but do have my Ubisoft account linked to GOG Galaxy (when it works) and to Playnite (for when GOG Galaxy isn't working) and assume that those count as log ins?
When was the last time you logged in to your Ubisoft account? Is it even still active, or did you maybe miss the 30-day notice email that's sitting in your Spam mail folder because it looks, reads, and feels like a weak phishing attempt?
https://gamerant.com/ubisoft-delete-inactive-accounts-games/