So how many of you have ACC?
I would like to start a casual league for those who are keen!
Assetta Corsa and Assetta Corsa Competizione are different games

I do. only 3 hours play-time though.
You've been talking about it long enough - just do it already

Start with a small 2/3 race season, let the drivers see the game in action, and it'll grow.
My list shows that @DieGrootHammer @SlinX @aldyr @Deadlypinecone @oltman @Nosferatie and @DarthMol all own the game - pop a Yes/No in here for @Flex please. I'll probably add myself to that list as well soon enough… just hoping for a little sale/discount/bundle soon.
Yeah, only got the game recently as the local sim scene is moving away from PC2 and more towards ACC.
I wish I owned the game, maybe you saw my wishlist

I'm also starting to run out storage space with all these concurrent leagues - between F1 2019, Assetto Corsa, Dirt 1 & 2, that's a few hundred GB's of space!
Cos i'm a psycho, i'll sponsor 2 people on the base game, or 1 person base game + DLC. Is that you @DarthMol ?
I rate this game, the best current GT Racer out there. It's brilliant.
Oh and in case it wasn't obvious enough, i'm in for anything, league or just random evenings of ACC
@aldyr that's so generous of you! I vote for 2 base games as I know there are others here who also want the game (I know that @GregRedd does). There's probably more than 2 wanting the game maybe we should get a list and do a random draw?
Mega offer @aldyr thank you! I'd be more than happy to take a copy of the game if you want to give them away directly. Otherwise, as @DarthMol suggests, put me in a draw.
Of the Assetto Corsa crowd I think it's just @Dragonic who doesn't have the game in addition to me and @GregRedd
@Dragonic you want in on the list?
And thing is @aldyr is so quick it's not like he had to buy us off to let him win!

Thank you!
Yoh soema me too.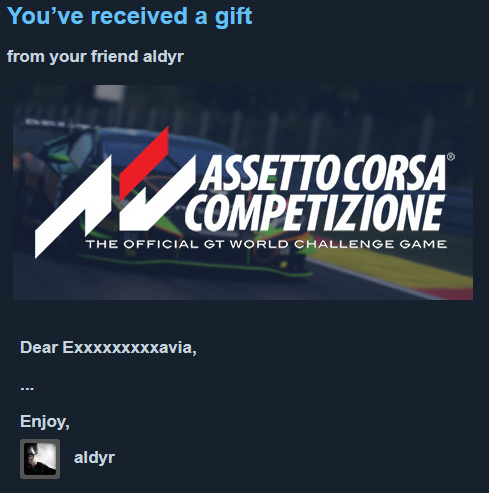 Thanks Keeeeeeeeeeeeeelvin!
In which case, I'm in of course.
I will try join in for some casual races.
Take the Bentley for a gentle cruise at the back of the pack
I will host a practice server tomorrow Night, once everyone has the game. I will keep it up for quite long and keep it on practice on Kyalami (track all of you know).
Then everyone will choose a car and create a livery and lock it it. Then we can plan and start a league from there.