Edit: It has been decieded, Daytona Road Course, Corvette C7R
Registration: https://bit.ly/2IXjIwD
Practice Server: MEW Racing League - Race Weekend: Daytona 3h - Practice Session
Track: https://www.mediafire.com/file/tsrje49tpphqcdn/rt_daytona.rar/file
Track alt link: https://drive.google.com/file/d/1gaEhp1XZglvxjTQHwOQlGgXEVpOEY2hS/view?usp=sharing(edited)
Server restarts every 2 hours, new registrations will take effect at the beginning of a new practice session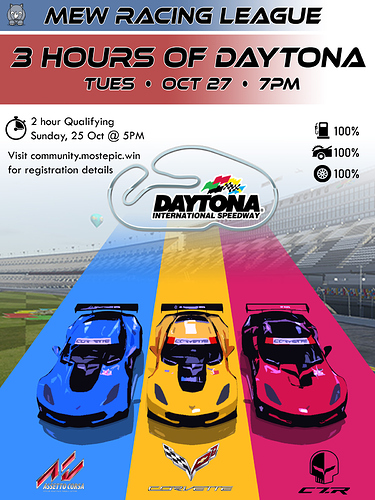 Since people on MEW and other local racing communities have shown interest in a longer format endurance race (2/3 hours), I though I'd create this topic and get organising.
This is all subject to change, but for the moment I'm thinking we run this on AC as apposed to ACC as it's the more accessible game of the 2.
We will probably be racing on a standard length track and not on La Sarthe where Le Mans takes place, unless we get like 20+ people interested.
I'm unsure of the cars to use, whether we should all use identical cars or not. It will probably be something in the GT3/GTE range though. The Porsche 911 RSR 2017 (5 tyre compounds to choose from!) is a popular one for endurance events in AC.
If we do manage to get lots of interest, we could even do multiclass and throw a couple LMP cars in the mix.
Before I get ahead of myself…
Beemerstein has ruled out a few days since there are weekly events on all other days of the week, e.g. on MEW, Monday is MNR, Thursday is F1, Wed/Thur has a bunch of events that the TTSA and TMSA guys take part in. So that leaves us with Tuesdays and Weekends.
Please use the poll here instead, as I forgot to make it multiple choice.
Track and car preferences I'll leave to comments.
@aldyr @dragonic @DieGrootHammer @GregRedd @DarthMol @oltman @kingz_demiz @GeezMo786 @GerhardNiemand @Grobbie
Please tag anyone I've left out.