I'll be the guy with the LMG so when I miss my shots, I can just say I'm suppressing
I wonder if this means that cheats and hacks will be out before the game even releases.
This seems fake (the trailer tracking on the edge of the screen is janky and there is no motion blur from the camera movement) but still very good!

one game that I will definitely never play on a console. Otherwise looks good so far, like the Crysis style attachment changing thing, although in BF4 you got like tons of attachments per weapon, so I am curious to know if you get like a "loadout" type thing where you can actually only select a few attachments to take with you when spawning, and only when dead can you fully customize it, that would make the most sense to me.
I guess we don't know yet if there will be dedicated servers in South Africa yet?
Nothing confirmed that I can find anywhere, but I would probably press X on that one, at least initially.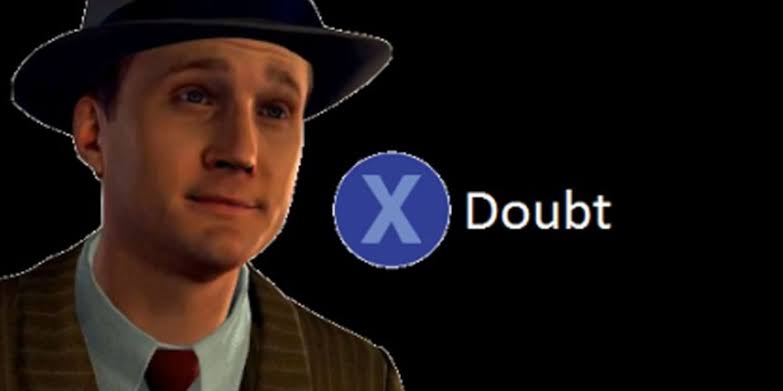 understandable, but also, every BF game has had SA servers thus far* so I believe the odds are in our favor.
*I can only really speak for Bad company 2, BF3, BF4, BFV
But was that from launch? And haven't they all subsequently been retired and shut down? I'm assuming we're talking about official DICE/EA servers here though. I imagine there's still some locally hosted private servers, and will be again for BF2024.
Although, from what I understand of these things, doesn't this bit imply that it should be possible to use some sort of peer-to-peer type co-op system with battles against AI on servers that are only partially filled by yourself and your mates?
At a pre-reveal event attended by VG247, DICE was particularly excited about one key feature that's going to completely change how people play the game. Battlefield 2042's All-Out Warfare game modes can be experienced entirely without real players.

In other words, anyone can launch a game of 128-player Conquest or Breakthrough, on any of the supported maps, and immediately play alongside and against AI. This also works as a quasi-co-op mode, where players can group up with friends as they experience the full scale of what the game has to offer, all against non-human players.

The even bigger news is that progression earned while playing with and against the AI will contribute towards your character and weapon unlocks.
Sourcerooni
I have tried asking EA South Africa, but I'm not holding out hope of getting a reply, never mind an answer to the question.
Just like the good ol' 1942 days. I have great memories of lanning with friends taking on the bots.
ahh sorry, I am only talking about local private hosted servers, don't think EA/DICE ever hosted their own servers in SA, think it was always WAGE and MWEB were the big ones, I have not gone back to BF4 to check recently but the last few servers that were still up were the "expendables" and "early birds and veterans" I cannot recall any DICE/EA official servers. As far I know they were out on launch as soon as people were able to get their hands on the hosting software.
It would also be great if they could make old style custom servers possible on a normal user PC, like where I can host my own server for me and my friends or whatever and just add bots as I wanted, good old "add_bot_ct" style

. That would make the vs bots thing cool, for when you are tired of toxic tryhard humans. Not getting my hopes up though, that would probably never happen in my lifetime again.
EDIT: just saw you can go look up the current live servers without launching the game: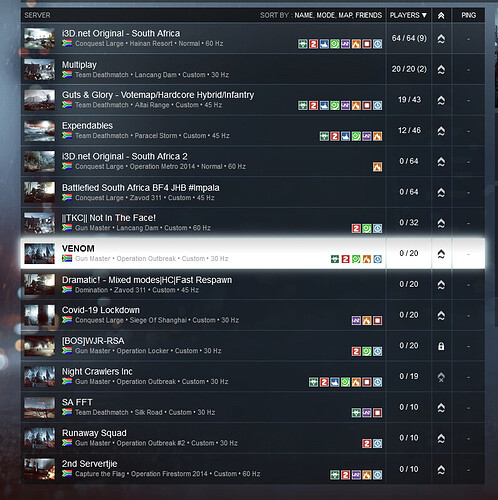 Confirmation on the EA Play and Game Pass benefits:
EA Play members (including Xbox Game Pass and Xbox Game Pass Ultimate subscribers) will have early access to Open Beta and a 10-hour trial of Battlefield 2042 starting on October 15, 2021.

EA Play Pro members get the Ultimate Edition of the game, and all rewards associated with it, including early access to Open Beta and access to the full game from October 15, 2021.
So access to the Open Beta and then at launch (actually a week earlier) for all Game Pass subscribers, but only for 10-hours. Then the waiting game until it's added to the EA Play library - I'd guess 6-9 months later.
If you decide that you really do want the game and can't wait for it to be added to the EA Play/Game Pass library, I strongly recommend that you do the 1-year EA Play Pro subscription rather than buying the game by itself. At R1200 it will cost you R200 more than the Standard Edition, but you will get full Ultimate Edition access, and access to all the other EA games in the Play Pro library for a full year.
If you want your fix while waiting in anticipation of 2042, the local BF4 servers are bursting at the seams at the moment.
And it's still as epic as is was 7 years ago

headphones needed for epic fly-bys at the end.
BF4 is still great, but nothing beats the fun we used have on BF3. My favourite moment was when my wife took the headset while I was playing, and I shot a buddy (on the opposite team). So my wife goes: "Ooh, did I kill that guy?" My buddy is still convinced to this day that he got shot in the face by my wife who has never played before.
BF3 is good, but it doesn't have LeVoLuTiOn!
Both are great, I have hundreds of hours in each, I just prefer 4, it's just more everything, more battlefield in your battlefield!
BFV is much slower paced, but good for different reasons. less battlefieldy.
None of those had the same magic for me like BFBC2 had.
Yeah we had our best moments in BF4, for example jumping on the German servers and playing 1000 ticket conquest servers till 1-2am.
4 man squad, rolling in 4 tanks.
or that same 4 man squad in a chopper having epic battles with other choppers.
Battlefield Portal revealed at last night's EA Play Live.
Battlefield Portal is a community-driven platform within Battlefield 2042 that will let you create and find fantastic experiences made by the series' creative and passionate community. The creation suite includes Settings, custom modes, and a Logic Editor so you can build your own signature spin on Battlefield's sandbox; you'll be able to change team ratios, tweak victory conditions, restrict weapons, and even put different factions from different eras in Battlefield 's history against one another. Those who want to focus on discovering what others have created will have easy access to an entire world of unexpected battles featuring some of the series' most famous eras mashed together in distinct, exciting experiences.

On top of the content available in Battlefield 2042, Battlefield Portal also lets you play with maps, weapons, vehicles, and more from some of Battlefield's greatest experiences, all reimagined at modern visuals. We're excited for you to be able to relive content from Battlefield 1942, Battlefield : Bad Company 2 and Battlefield 3.
That is actually very cool, glad they are embracing the crazyness that people do in battlefield, and there are quite a lot of creative people out there, so I am sure we are going to see some really cool stuff.