Thought this one might interest the techies. First in a series of articles; Part 2-4 to follow.
will have a look. Recall Toms Hardware doing quite a thing about history of GPU's, with some nice photos of old cards, was quite interesting.
Thanks

Yeah, I remember those; they did it with CPU's as well. The Tom's article was more of a visual history though as I recall, with only brief comments about each specific GPU in the list. This series of articles looks to go into a bit more depth.
Indeed, I think it was also broken up in "nvidia history" and then "Ati/amd history"
Am I old if i say I remember buying ATI cards?

Not at all! I used to own one as well.
In fact I was just about to ask: Maybe everyone can sound off below on the list of GPU's you remember owning, and maybe what your recollection is of them? Will make my own list in a while.
My GPU history started with the HD5870 in September 2009. I still have that card now.
I remember the Voodoo and Riva TNT days.
Sadly, I couldn't afford a Voodoo when they were hot, but I did get a PCI (as opposed to AGP) Riva TNT for my aging Celeron machine.
The very first name-brand graphics card I remember having was an Orchid Kelvin EZ in the 486 my mom bought for the household in the 90s. It wasn't a 3D accelerator or anything, I think. I'm not sure what it did, to be honest.
https://www.manualslib.com/manual/976269/Orchid-Kelvin-Ez.html
I remember having a Riva TNT2, GeForce2 MX400, GeForce 8800 GT, GeForce GTX 750 Ti and then newer GPUs the GTX 980, GTX1080 and GTX2080
I also had ATi Mach 64, Matrox Millennium G200, Xabre 400, ATi 3D RAGE II, ATi Rage 128 Pro, ATi All-in-Wonder (don't recall which one) and two more AMD/ATi cards
I remember the 8800 GT. Nvidia released a second-generation version of the card, which was confusing as hell, but it was a phenomenal card. I think I might still have one in its box somewhere after upgrading.
That card would not die, it was a phenomenal piece of hardware. I eventually gave it away to a mate who is actually still using it in his HTPC.
Specifically I had this one :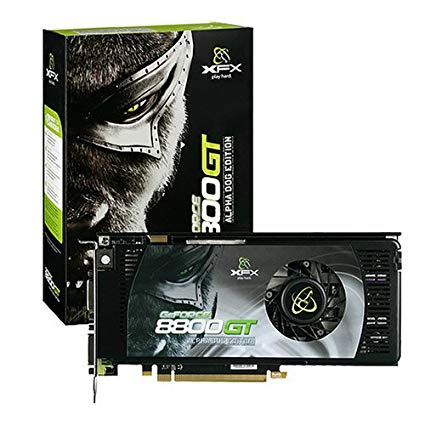 Wowza. As in, still using it today? Or it's lying on a shelf somewhere?
I still remember my first 3 graphics cards.
Voodoo 2
Riva TNT 2
Geforce 2
Ah the good old days. It's a pity they don't make 2's anymore.

The most versatile card I've ever owned was the ATi All-in-Wonder, was a decent mid-range GPU (for it's time) and had a TV tuner built in plus it came with decent video recording and capture software. Sadly these days if you want similar you'd basically need to buy three cards.
Wow I actually remember owning some no-name TV tuner at some point. It was a total piece of crap though and I think it barely worked. I just remember spending hours trying to get it to do something, I can't remember what though. Probably to find channels.

Some really impressive pedigrees here, guys!
Mine goes something like this, to the best of my recollection:
S3 Pro or Virge, not 100% sure which. My first discrete GPU ever.
Riva TNT2. Mega GPU for the time, played the crap out of Rogue Squadron with it.
I think there was a Geforce 2 in there somewhere, memory is a bit hazy on this point.
ATi Radeon 9000 series, but not entirely sure which one. My first ATi card.
GeForce 6600, which eventually failed.
GeForce 8800GTS; in the first PC which was exclusively mine and not shared with my boet.
GeForce 9800GTX, which also gave up the ghost. Memory issues.
Radeon HD6850; back to ATI / AMD at this point.
Radeon R9 380;
Radeon RX580, which I'm still using.
That would make it useless.
He just wanted to record the eTV Saturday night movies
It definitely was a waste of money.
This was way before eTV was even a thing. I'm pretty sure we didn't even have internet back then.
Pre-1998? Damn son…the capture cards and TV tuners were miserable back then