Continuing the discussion from Hacker and hacking games — the definitive list of the greatest hacker or hacking games:
There seems to be quite a surge in hacking and hacking-themed games on Steam. Rather than create separate topics for each hacking game I (we?) play, I thought it might be better to collect a bunch of short reviews and discussion in one place.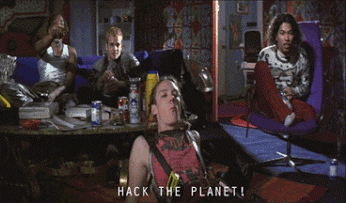 What's the difference between a hacking game and a hacking-themed game, you ask?
Like Rogue purists will differentiate between proper Berlin Interpretation Roguelikes and Roguelites (see: Rogue-likes and Rogue-lites), I differentiate between Hacking and "Hacklite" games.
I haven't yet formulated a definitive set of criteria for True Hacking Games™, though. Right now I feel that, at the very least, a proper hacking game must require that:
(a) your main form of interaction be via an in-game computer using some kind of command line interface; or
(b) you write actual programs in an in-game programming language. EXAPUNKS comes to mind as a solid example of a hacking game. Else Heart.Break() is another.
A hill that I will die on is that a game which is merely hacking-themed is usually just a set of mini-games with a hacker aesthetic. As you beat the minigames, you move the story forward.
My favourite hacker and hacking-themed games are essentially adventure or mystery games, but where you "hack" to find clues or solve puzzles and reveal the next part of the story.