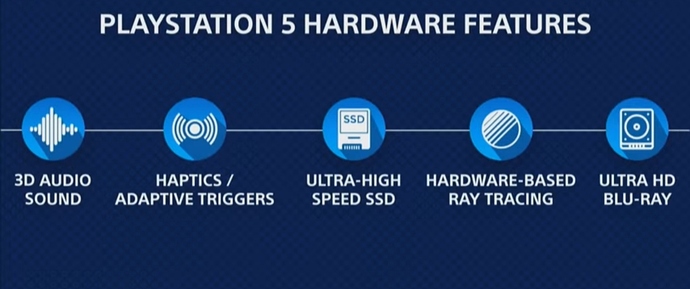 kinda underwhelming, why waste so much resources just for a logo reveal, they could have atleast revealed the final console look or even the controller, instead we have to find out how the controller looks via spy pics from a cleaner at ubisoft
Yet the logo reveal has 5.2 Million likes on Instagram vs 1.8 Million for Xbox Series X reveal trailer.
The logo for the next console has almost three times as many likes as the reveal of the actual opposition console.
That's the power of mystery.
Its up on the website now.
PlayStation 5 Manufacturing Costs Reportedly at 'Around $450 Per Unit'
The biggest problem appears to be a "reliable supply of DRAM and NAND flash memory."
That sounds pretty high. I wonder what the final price will look like.
If those costs are accurate, and they launch it at $499 (??) against the PS Pro 4's $399, I reckon South African buyers are looking at a R9000+ retail price, with maybe a launch game or two thrown in.
thats pretty cheap considering whats going to be in there, the ps3 manufacturing costs was about $800 and sony lost about $300 on each console they sold, that was ridiculous
Sony posted the specs of the PlayStation 5 on its blog last night after Mark Cerny's "deep dive".
Nice. I wonder if current gamers will stick to their brands. For instance I will continue on with XBox because I've been with them since the 360.
I've got nothing against Xbox, but I'm buying a PS5 first so I can play Bloodborne on it. No idea when I'll buy one, not sure how secure my job is at the moment due to this whole Covid 19 mess.
i was too tired last nite for this article, one thing ive noticed is the Ps5 Gpu has a higher clock speed than the series X GPU, but the Series x has higher cpu clocks than the ps5, i suspect the series x will have better raytracing capabilities since even mark cerny said that with RT enabled performance will take a hit, whereas according to DF raytracing on the series x is pretty impressive with no substantial hit in performance when they experienced the minecraft RT demo
i like the new shape but not the colour though, never been a fan of white controllers, with the original 360 when the elite was released i immediately got myself a black controller and the same with the wii.
interesting article on wccftech on the power disparity between the 2 consoles
MS copied their share button, they copied the ms controller ergonomics