Reveal Trailer is just 10 minutes away!!
Meanwhile, more news has leaked about the game:
According to a DSO Gaming report, the game will release on 02 October 2020 across all platforms. It will be available on PC through Steam, Epic and Origin, as well as release simultaneously to Xbox and PlayStation.
Additionally, the game will support cross-play across all platforms and the PC version will be VR-enabled. A lot more detail and perhaps some gameplay is expected during the EA Play Live online event happening later this week (Thursday).
Available on all platforms with cross-play. WOW!
Hnnnnnggggnnn!!!
Very cinematic. Spaceship dogfighting combat looks good. Will be an amazing VR experience I think. Squads of 5. 5v5 battles? Wonder whether co-op, forced multiplayer, or solo with AI?
I need a shower.
Some bits and pieces picked up from various places:
Price: $40 (Seems low - little content? Lots behind "Season Passes"?)
Release date: October 2nd
VR Support on PC and PS4
Crossplay support
Is a first-person 5v5 dog-fighter
Single player campaign set after the events of Return of the Jedi
Ship customisation and upgrading: "Fully self-contained experience from day one, where earn rewards through play. Climb the ranks and unlock new components like weapons, hulls, engines, shields, cosmetic items in a clear path for progression"
Official sub-site is up:
---
Steam (R650):

Origin (R650) (No confirmation if included in Origin Premier/Access yet, Jedi Fallen Order was, Premier only though):
https://www.origin.com/zaf/en-us/store/star-wars/star-wars-squadrons
MS Store for Xbox (R650) (Very impressed that they're price matching for our console friends for a change!):

Playstation (R629):

---
Pre-Order Bonus Content:
Pre-order* STAR WARS™: Squadrons now to get cosmetic items for your New Republic and Imperial pilots and starfighters:
New Republic Recruit Flight Suit (Epic)
Imperial Ace Flight Suit (Epic)
New Republic Recruit Starfighter Skins (Rare)
Imperial Ace Starfighter Skins (Rare)
New Republic Recruit Decal (Common)
Imperial Ace Decal (Common)
---
No hype until I see some actual gameplay footage…
Supposedly going to happen during the EA Plays event on Thursday: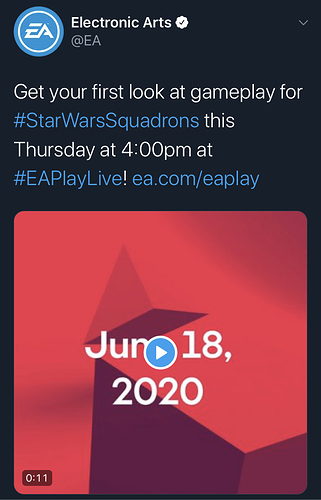 That's 4:00pm EST in the US, which is 1:00am on Friday morning for us, so it'll have to wait until a reasonable time to watch a review or two.
VR and HOTAS support. I'm very interested, as long as the single player is good. Couldn't care less about MP.
Not going to lie… it looks absolutely fantastic!
Plenty of content for both solo play and the multiplayer preferences. Equal content for both sides, AI or IRL squad mates for Fleet Battles, 4 ship classes, tons of customisation options (all available through play, no micro transactions?) - I mean… Ewok bobblehead on the dash!? How could you not be sold on that fact alone

Add in completely VR enabled and a pretty decent price for both PC and consoles… the last quarter of the year is going to help make up for the shitty first half!
This does look amazing, but it also looks very multiplayer focused. So I'll reserve my hype until there is some concrete evidence of a proper single player.
Uhhh, did you maybe miss the part where I said "Ewok bobblehead on the dash"? EWOK BOBBLEHEAD!!!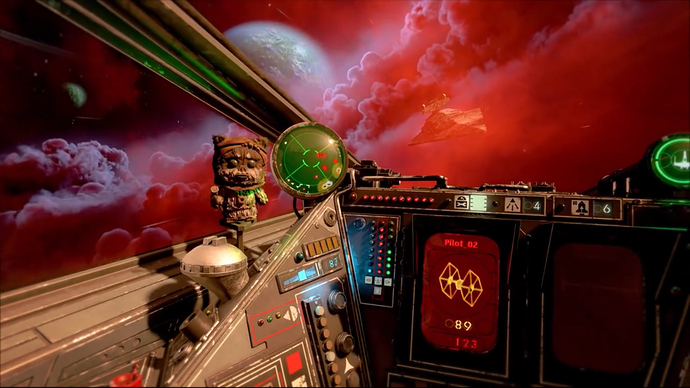 That should be enough to get you hyped AF!

Seriously though, do agree that a lot will hinge on the quality of the single player experience.
That said, I reckon there's enough space game and Star Wars loving folk around here that we may even be able to put together a vaguely capable 5 person squad for the occasional multiplayer round or two.
I'll also wait for some 'real' gameplay footage. I mean, the official Anthem gameplay trailer made it look pretty good.
Did you figure out what that stands for? We were all confused last night…
I'm sorry AF to admit I do not have A Fekkin clue.
Meet one of the ace pilots you'll fly alongside in STAR WARS™: Squadrons in this original standalone CG short, made in collaboration by Motive Studios, Lucasfilm, and ILM
Premieres at 5 PM.