Unfortunately not, gonna go pick up a windows install from my brother, and run that. Hope fully a reinstall wins.
This has been so much fun so far…

Reinstall didn't work?
The hard drive that I am supposed to install to, refuses to be seen properly. I cannot delete the partition or anything. So taking it to Nima rather let the pro have a go, cos it seems that the main SSD installed on the motherboard is faulty
At leat my pc is up and running again
Apparently it was a security feature on the SSD that caused a conflict.
Was it a Crucial drive by any chance?
Is there anyone I can do to improve the stability and or strength of my WiFi signal based upon the settings and options you see here?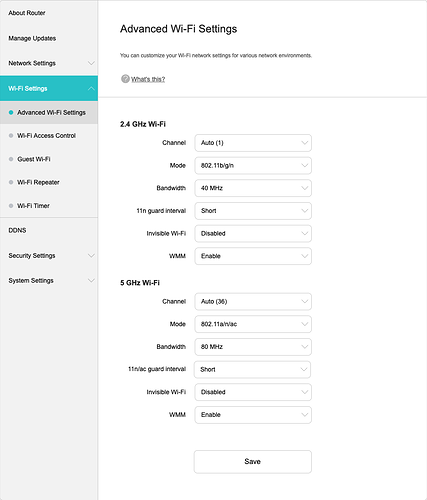 Get something like this and find the most unused channel, and set it to those for both 2.4 and 5GHz
For 'bandwidth', 20MHz on 2.4GHz and 40MHz on 5GHz are what I see used in most scenarios.
Thanks, it's ridiculous that I am 5m away from the router and struggling with signal. Should I separate my 2.4 and 5GHz or combine them?
What do you mean? They are separate…
If its for your PC and it's 5 meters, go wired.
That normally points to an antenna problem hey. like if you're on a laptop, open it up and make sure both little wires are connected/clipped properly onto the wireless card. same with desktop with the antenna bunny ears you screw on.
Just a thought

I have the option to enable it as a single AP, in which case I only see one SSID and the router will prioritize the band. alternatively I can have them as separate SSIDs for 2.4 and 5 GHz respectively.
I have a small apartment, so while it may only be 5m or so away from the AP, I cannot simply run a cable. The router is behind the TV and connected via cable to console and TV. The toilet is even closer but then has to go through two walls and even then struggles when I am on the loo (the WiFi, not me).
Granted, the bedrooms and bathroom are effectively "behind" the router but the antennae should be omnidirectional surely?
I don't think the antennae can be removed, they are the folding type and fixed to the router. They fold flat onto the top of the router for storage or packing.
I know it may be a cheapish router but it should be capable for the size and coverage area required.
do you struggle with both signals, or only one of them? 2.4 usually has a wider range but slower speed, whilst your 5ghz will have higher speed but shorter range.
Ya, maybe separate them then… Or if you can disable 2.4 outright unless something specifically needs it.
Just to be sure.
I don't trust consumer router's tbh… When I started where I am now, they had R400 TP-Link repeaters with a "Lock to MAC Address" option that didn't lock squat and it would connect to any MAC it felt like…
I separated mine after running them the same for a while. I found that some devices kept switching between 2.4 Ghz and 5Ghz. Now I run some devices on the one and others on the other. Haven't had problems since.
I HATE repeaters… A mesh setup is so much better.