To envy is human. But comparing ourselves to others creates blind spots that leave us unhappy and unproductive.
First, when we try to emulate the Elon Musk's or Gwyneth Paltrow's of the world, we fall victim to a cognitive error called survivorship bias. We read a headline about how a certain high-powered CEO wakes up at 4 am to get a jump on the competition and we think, "I need to get up early to be successful."
The problem is that no one writes headlines about all the people who have gotten up at 4 am and haven't become incredibly successful. We have no way of knowing if that ungodly wake-up time led to the CEO's success or if it was other factors entirely. Yet we hold the habits of successful people up on a pedestal and end up feeling like failures when they don't work for us.
The second problem with comparing ourselves to others is that people only share the good stuff, not the full, messy picture of their lives. We don't know what they may have sacrificed to get where they are.
Maybe they have six-pack abs, but they've spent the best years of their lives hungry and miserable. Maybe they have a successful business, but they've fallen out of touch with all of their friends along the way. We have no way of knowing.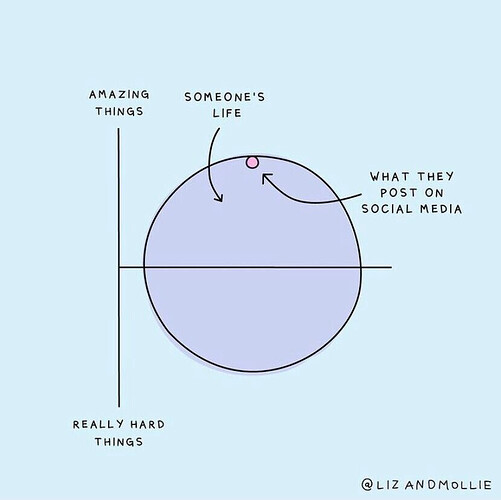 All that to say, just because super successful so-and-so approaches work and productivity a certain way, doesn't mean you have to (or should) do the same.
It's great to get inspired by the way other people do things (I love a good behind-the-scenes productivity profile as much as the next person). But the best thing you can do for your productivity and your wellbeing is to learn to trust yourself — your values, your priorities, the way your body and brain operate at their best.
Here are some places to start plotting your own path to productivity:
Do a commitment inventory. Get clear on what's important to you and what you're willing to sacrifice in order to prioritize it. Every minute you spend on one area of your life is a minute you aren't spending on another. Learn to make peace with the trade-offs you're making.
Here's a step-by-step approach to conducting your own commitment inventory.
Identify the habits and thought patterns that are holding you back. Everyone has different hang-ups when it comes to work and productivity. I've found the Enneagram personality framework incredibly helpful when it comes to recognizing the uniquely frustrating ways I get in my own way (a tendency to focus on what could go wrong, to overthink and overanalyze and end up overwhelmed, to seek out others' opinions instead of trusting my own judgement — all classic signs of a Type 6).
Last year, we published a guide to The Enneagram and Your Productivity. It's a great resource to start identifying your own uniquely frustrating habits and thought patterns so that you can choose to change them.
Use trial-and-error to find a productivity workflow that's right for you. There's no one-size-fits-all approach. The best productivity method isn't the one [insert your Productivity Crush here] subscribes to. It's the one you will actually stick with. Only you can know what that looks like.
Try a curated hub of the most popular productivity methods along with a personalized quiz to help suss out which one(s) might be a good fit for you. Mix and match and experiment until you find one that sticks.
Personal productivity is just that: personal. So stop listening to me and start listening to yourself.
---
So, as some of you may or may not be aware, I like productivity.
I create systems for myself. I put down everything that I need to do, things that have been done, things in the future. If it enters my mind, it gets placed into my system. It goes without saying, I have tried a lot of systems, tools and methods and my system is still evolving and changing to suit my needs.
I like improving upon my productivity systems, be it in tools, processes, methods, or whatever and love exploring new avenues and helping others should they require or have a need to improve.
So let's have a discussion or just a place we can discuss these systems at play and help each other become more efficient at being productive, and tell me about your systems and how you cope with the daily struggles.
I'm always happy to help