It looks like Gearbox has made some changes to the SHiFT system, or at least extended it with a thing they're calling the Vault Insider programme.
Previously they would publish codes that look like game keys that unlock items in the game. Usually you get some amount of Golden Keys, which you can use to unlock a special loot chest in the game that will then drop legendary items at your level.
I grew to dislike the Golden Key mechanic, because it undermined the game's loot grind.
Anyway… What they're doing in the lead up to Borderlands 3 is a points system. You earn points by creating a Borderlands.com account and doing various activities. This includes filling out your profile, linking your 2K and Twitch accounts, watching video, and reading news.
You can also earn points using "VIP Codes" — a little bit like the old SHiFT system.
Currently there are two kinds of VIP codes available. VIP Creator Codes (200 points each), and standard VIP codes (100 points each). Creator Codes will only be valid for another day or so (see below).
Points may be redeemed for Golden Keys in the existing Borderlands games, but Gearbox also has a silhouette teaser on the Rewards page to encourage people to save their points to redeem later.
If you don't have a Borderlands.com account yet, I've linked to everywhere in this post using my referral code: Sign up.
I get 500 points for every person that signs up. You can use your existing SHiFT account to log onto the website (that's what I did). If you don't want to use my referral code, just strip it out of the URL.
For those who already have an account, here are all the codes published to-date that I've found.
---
VIP Creator Codes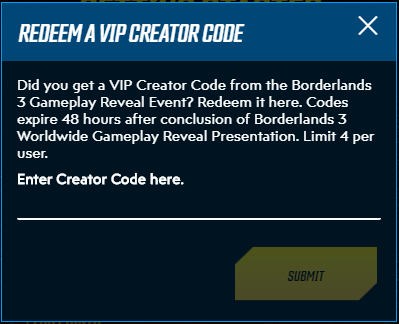 Here are the VIP Creator codes (via Reddit). These will apparently only be valid for 48 hours after the gameplay reveal event last night. So you have a day and a bit from the time this post goes live:
mitsushowvip
kinggothalionvip
admiralbahroovip
joltzdude139vip
soarynvip
professorbromanvip
dattovip
arekkzgamingvip
According to one post on Reddit, you can basically use the name of any of the Borderlands streamers who were at the global AMD reveal event and just add "VIP" to the end of their handles.
Each code is worth 200 points, and you can redeem a maximum of 4 of them.
(Standard) VIP codes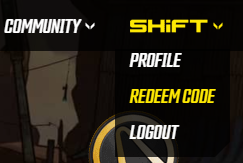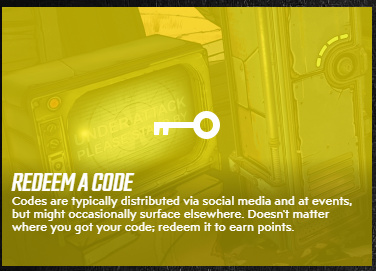 I've only found two VIP codes so far. If you find more, please post them in this thread. If you are a forum Regular, you should be able to edit this post. Please feel free to do so.
Normal VIP codes are redeemed in a different place than the VIP Creator Codes. You can either use the drop-down in the main menu, or click the tile on the Activities page.
BL3REVEAL(100 points)
WUBWUBWUB (100 points)
---
Activities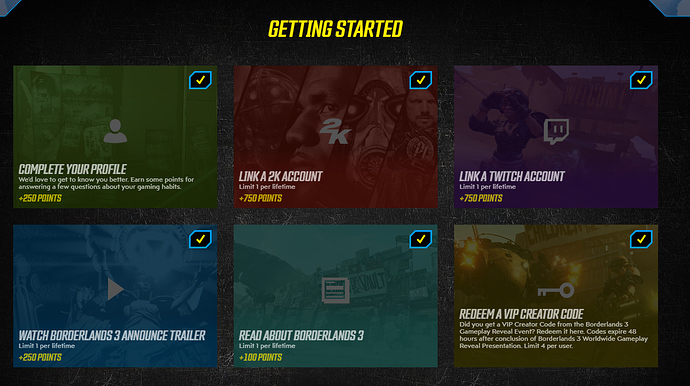 ---
Rewards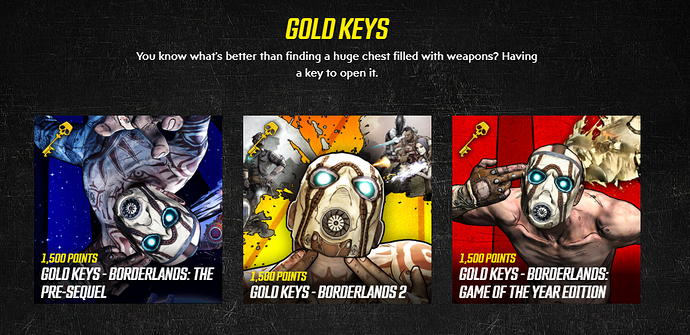 (This topic is a continuation from the discussion in Borderlands 3. Go there for the official topic to discuss the game in general.)
ALL CODES THUS FAR:
500 Points [06/10]
Vault Code: BORDERLANDS3VIP
250 Points [06/10]
Email Code: FIGHT4SANCTUARY
100 Points [06/10]
250 Points [06/09]
Vault Code: IGNVIP
Vault Code: GAMESPOTVIP
Vault Code: TWITCHVIP
Vault Code: FACEBOOKVIP
Vault Code: SHACKNEWSVIP
200 Points [06/08] Creator codes are limited to 4 codes per event
Creator Code: MitsuShowE3
Creator Code: TessachkaE3
Creator Code: EdEMonsterE3
Creator Code: Joltzdude139E3
Creator Code: Ki11ersixE3
Creator Code: KingGothalionE3
Creator Code: ProfessorBromanE3
Creator Code: AdmiralBahrooE3
250 Points [06/08]
250 Points [06/06]
250 Points [06/04] (expires on September 13th, 2019)
250 Points [06/04]
200 Points [05/24]
Vault Code: INTHEFACE didnt work for me
200 Points [05/01] expire in 48 hours after the reveal event. aka not active anymore
Creator Code: professorbromanvip
Creator Code: ki11ersixvip
Creator Code: kinggothalionvip
Creator Code: admiralbahroovip
100 Points [04/29]
100 Points [04/19]