It's been a month of multiplayer brawler game releases. First there was Multiversus, and then Rumbleverse. And now there's a third on the way: Lego Brawls.
Technically, Lego Brawls is not a new game - it was originally released exclusively for iOS devices on Apple Arcade back in September 2019. Three years later, Brawls is eventually coming to everyone one else too. The game will be released for Windows PCs, Nintendo Switch, PlayStation 4 and 5, Xbox One and Series X|S next Friday, 02 September.
Lego Brawls is a platform fighter with a 4v4 multiplayer with the goal to control the center of the map until your team's color is full (Control the Point mode.) Other game modes included Collect,
Brawl Royale (a solo brawler), and Free-For-Brawl (a last-man-standing challenge mode). Brawls also comes with a training and party feature.
Lego Brawls allows the player to create their own minifigure "hero" with their own weapons and power-ups. With access to a huge variety of minifigure parts, melee weapons, power-ups, and emotes, players will be able to build their ultimate brawler. And with over 77 trillion (!) possible combinations, no two brawlers will be the same.
The collection of playable minifigure characters is based on minifigures that have been released throughout Lego history either as part of Lego construction sets, as collectible minifigures or as part of one of the Lego themes. Minifigures are grouped into different types and include Classic Space, Pirates, Alien Conquest, Castle, Western, Ninjago, Hidden Side, Jurassic World, Vidiyo and Monkie Kid
Perhaps one of the biggest draws of Lego Brawl will be its fully enabled cross play capability. Play couch co-op style with friends and family, "control the point" with your team, collect the most items in collection mode levels, go solo in free-for-brawl mode, or be the last minifigure standing in a classic battle royale! Play online with cross play, at home, or on the go!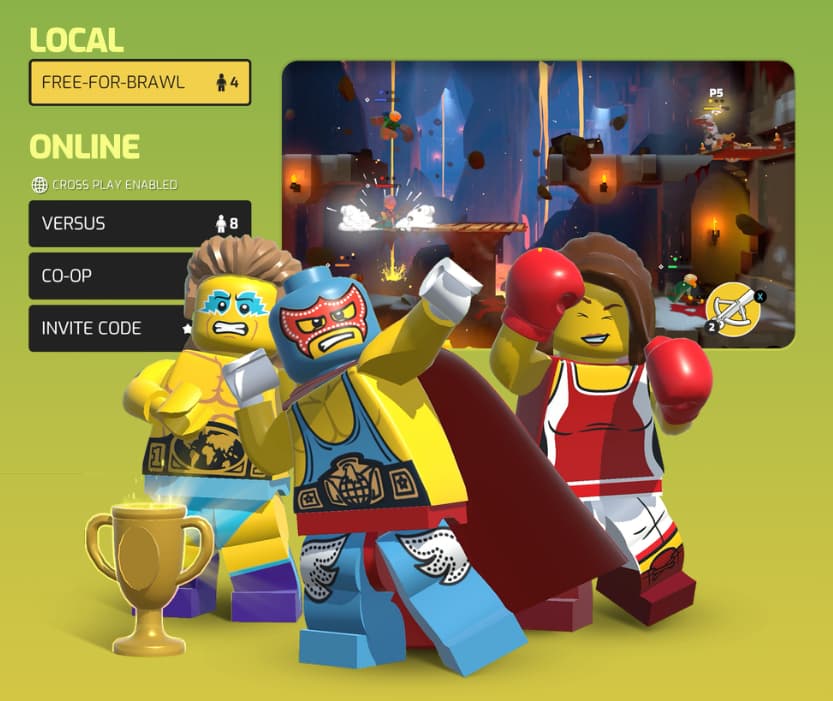 And that makes it another suitable candiate for a future MEWME game too.